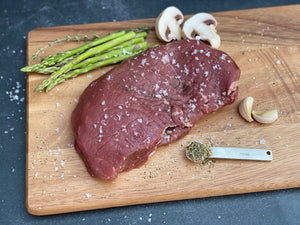 A versatile and economic steak is good for just about anything! We love this on a salad, in stir fry, thrown into stroganoff, it can make any dinner a homerun! Comes in either one steak, or in strips as a few smaller steaks in one pack. 

Dry-Aged Beef

No Added Hormones

No Antibiotics

100% USA Wyoming Beef

Grass Fed, Grain Finished

Ranch Raised

USDA Inspected and Labeled

Hand cut, wrapped and vacuum sealed (Please note: some smaller sirloin steaks are packaged together in one package however, the purchased package is based off of weight).