Filet Mignon / Tenderloin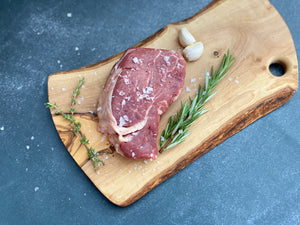 The most tender cut, paired with our dry-aging, creates a steak that is definitely the best for any special occasion! We recommend only salting and peppering it before grilling, and cooking to medium rare. Once done, pull off the grill and top with a pat of butter. 
*Note the packaging says Tenderloin instead of Filet Mignon.
Dry-Aged Beef

No Added Hormones

No Antibiotics

100% USA Wyoming Beef

Grass Fed, Grain Finished

Ranch Raised

USDA Inspected and Labeled

Hand Cut, Individually wrapped and vacuum sealed