Subscription Box - Premium Steaks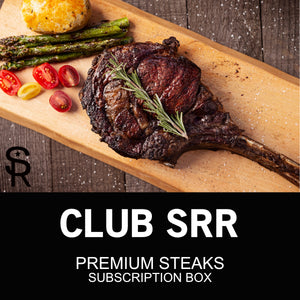 A monthly, or every other month delivery of our restaurant quality, dry-aged, premium steaks all cut at approximately 1.5" thick. 
Premium steaks box will include 10 pounds of an assortment of any of the following cuts: (you can let us know your preferences of cuts! We always try our best to fulfill your preferences but know that based off of inventory, weight, or other factors, some preferences can't always be fulfilled, but most of the time they are!)
Rib-eye
Tomahawk
T-Bone
Porterhouse
Tenderloin (Filet Mignon)
New York Strips
 We know you'll taste the difference in this beef. Just pick how often you want your box delivered, and we will ship out your box the first or second week of each month (If a major Holiday will effect shipping, we will ship the following week). 
Note: all subscription boxes will ship out the 1st or 2nd week of each month, regardless of when your order is placed.
Cards will be charged on the 30th of the month, before your box ships.
PERKS of Club SRR:
-Reduced Shipping: For our Club SRR box members ONLY! $10 off shipping on every delivery! 
-First Priority: Those members in Club SRR get first grab at our inventory each month! Once we fulfill our Club SRR members, only then will we fulfill our other boxes.
-No dealing with grocery store uncertainty again! Have beef delivered to your doorstep to ensure you have enough for your freezers to last you through any times of uncertainty. 
-Customized to your preferences! You let us know the cuts you love and we do our best to fulfill those preferences based off of weight, inventory, and price. 

-No Obligations, you can pause, skip, or cancel at anytime before your next delivery, however, as a courtesy we ask that you stay into the club for 4 boxes. 
 AS ALWAYS:   
Dry-Aged Beef

No Added Hormones

No Antibiotics

100% USA Wyoming Beef

Grass Fed, Grain Finished

Pasture Raised

USDA Inspected and Labeled

Hand Cut, Individually wrapped and vacuum sealed